Unmasked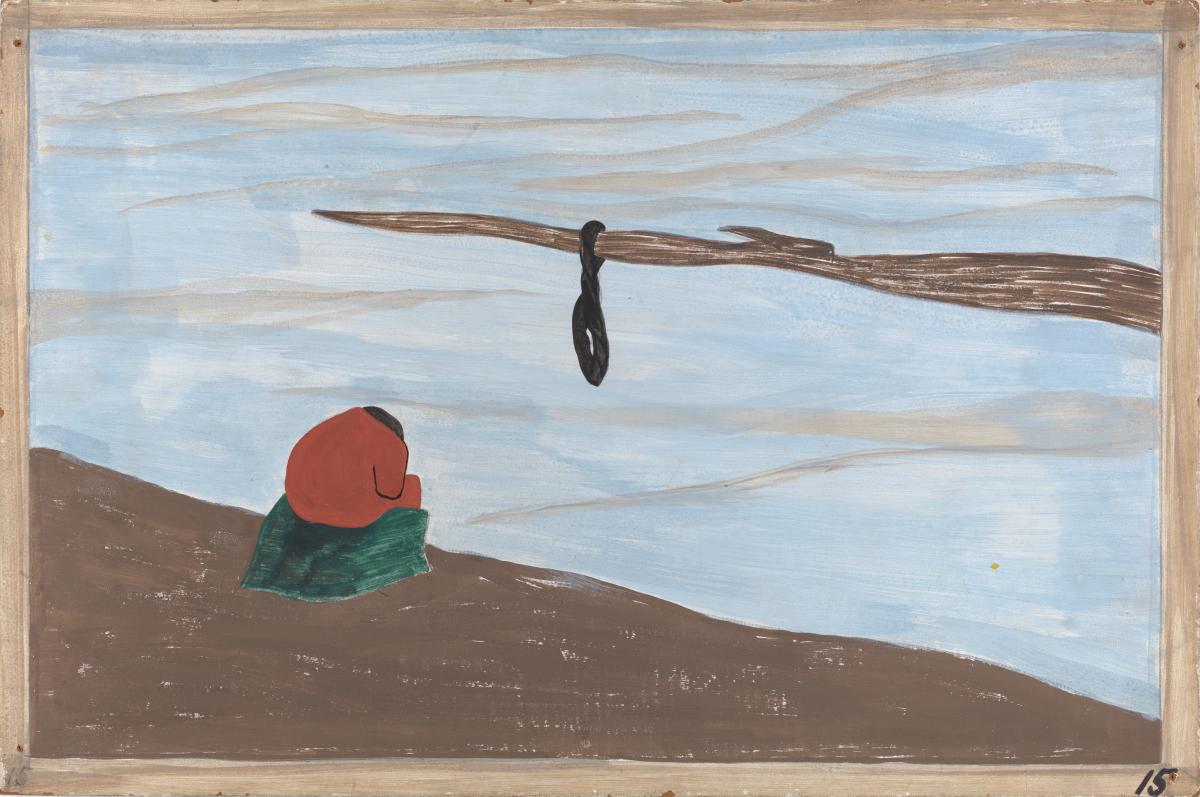 Unmasked: The Anti-Lynching Exhibits of 1935 and Community Remembrance in Indiana
March 25, 2023 through April 28, 2023
Unmasked contains racially charged language as well as images of racist violence. 
Not recommended for children under the age of 15, no photography or video allowed.
In a 1909 speech,  anti-lynching crusader Ida B. Wells noted, "[Lynching] is a national crime and requires a national remedy." Well over a hundred years later, the United States continues to want for a "remedy" for racial violence as well as a means to grapple with our history of racial terror. The Montgomery National Memorial for Peace and Justice, which opened in 2018, was the first national monument dedicated to educating viewers about the country's history of lynching while formulating a visual and spatial means for commemorating its victims. In its wake, remembrance coalitions have spread across the country, from Tulsa, Oklahoma to Marion, Indiana. Unmasked: Anti-Lynching Art and Public Community Remembrance in Indiana, joins this conversation on a local level, with the ultimate goal of creating a memorial in the city of Indianapolis to acknowledge occurrences of lynching in the state and to honor the victims of this once all-too common public expression of white supremacy.
We begin with an art installation that engages the public in a discussion about the history and impact of lynching and racial violence. The installation highlights how visual art has raised awareness and advocated for antiracist political and social change from the 1930s to the present. With the art installation, we aim to provoke community discussion about the best way to move forward with public forms of commemoration to the victims of lynching in the state of Indiana. By infusing a program of public education through the display of artworks, the remembrance of lynching history can become a part of the state's public memory. We believe remembrance is key to efforts aimed at meaningful conversations of reconciliation, the emancipatory possibilities of restitution, and the potentially transformative role of symbolic reparations through permanent memorials. The art installation is organized around a reimagination of two historic exhibitions held with the purpose of  creating public awareness of lynching with the goal of passing federal anti-lynching legislation. The exhibition will revisit—and curate in tandem for public display—these two anti-lynching exhibitions. In 1935, the exhibits were held simultaneously in New York just two miles from one another. At the time, these competing displays deliberately spoke to different notions of the political function of critical artworks and aesthetics. This project unites these exhibitions for the first time in a single gallery space accompanied by other multi-media materials that address the problem of lynching (and its representation) and/or employ motifs of racial violence. This show pairs historical concerns with ongoing reflections in the desire to recapture the contesting political spirit of the 1935 exhibitions and to illustrate the ability of art to raise significant questions of historical and current import. The goal of the exhibition is to use the legacy of the 1935 anti-lynching exhibits to provoke a broader discussion about art and politics, hate crimes, the resurgence of white supremacy, and teaching tolerance. Mindful of the repeated shooting of unarmed Black people by police, mass incarceration and punishment within a racially biased criminal justice system, the defense of racist memory in Charlottesville and elsewhere, and the new political voice given to neo-Confederates and other white supremacists, this exhibition is designed to prompt larger conversations about violence against African Americans and other minorities today. Unmasked opens at the IU Gayle Karch Cook Center for Public Arts and Humanities on March 25, 2023, and then will be on display in Indianapolis, New Albany, and South Bend, Indiana. 
Exhibit suported in part by Indiana University Arts & Humanities Council, IU's Institute for Advanced Study, the College Arts and Humanities Institute, the Allen Whitehill Clowes Foundation, and the Eli Lilly Foundation. 
This exhibit is open to guided tours only. 
Faciliated tours will be led twice daily, followed by a debriefing session.
Facilitators include 
Eola Dance, 
Shawnya Harris, 
Karlos Hill, 
Reginald Jackson and 
Glenn North.
Request a Tour